'Expedition ready' was how the vehicle was advertised. And to be fair we thought that we wouldn't do much more to it, but after our test run to France we decided on a few changes and modifications....

First stop Foleys Specialist Vehicles where Lodzi underwent thorough investigation after which changes were suggested and made as follows :-
Relocation of tent to front roof rack and removal of rear rack section to improve vehicle stability.
Sunroof installed in rear of twin cab for proposed roof tent access.
Indication light for auxillary fuel tank.
Floor safe fitted to passenger footwell
Lockable steel cubby box between front seats
Replaced auxillary fueltank pump.
Additional locks on truckman back.
Rust touch ups on door, bulkhead, and footwell.
Reinforced all underbody stress points.
(Check F & F for costs)
Our thanks to Paul and Stuart for all their advice and help in our preparations.
Next stop was water storage. We had been to a few Landrover shows and met Chris from Boab who kits out vehicles for expedition with various tried and tested modifications. We opted for the following:-
Fitted 90ltr plastic water tank.
Electric pump to shower head with basic filter.
Full compressor kit including 10ltr tank, pump, gauge and connectors
Recovery kit including bridal, rope & shackles
Tyre Pliers and repair kit with demonstration - excellent value.
(Check F & F for costs)
Many thanks to Chris for the informative chats whilst fitting the equipment.

Tent Entry. We found Lodzi already with the tent we were looking at getting, but we were adament we wanted to have an internal entry, much to Chris' dismay (who supplies these particular tents).

We located C & H Moulding who deal with anything to do with Fibre Glass. After talking through what we wanted and having a look at Lodzi, they accepted the challenge. We now have access although we still need to finish it up whilst we are on the road. Many thanks to Eric & Dave.
Maintenance and spare parts was next on the agenda. We found out about Conrico International from another expedition website overlandy.com and followed their footsteps and booked in to do the main engine work with them.

We unfortunately had to drop the vehicle in sooner than arranged due to a major break down when we stripped our gears!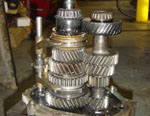 So we had the following work done:-
Fitted new clutch master cylinder
Fitted recon gearbox (at least it happened before we left)
Suggested and supplied spare parts to take with.
Accompanied full service mechanical course
(Check F & F for costs)
Many thanks to Tony for all the help and information and to Neil for the informative yet fun service course.